---
Are you looking for a way to raise money for your organization that does not require a lot of work? Princess Molly Bath & Beauty is here to help you! We offer luxurious, handcrafted bath and body products that everyone will love. Each product is handmade in our lab in Roswell, Georgia, and we only use the highest quality ingredients.
How it Works:
- Each organization Is given a unique code that will be entered upon checkout
- The code will have a set duration that is set by the organization
- Princess Molly will provide the organization with email marketing materials as well as postcards that can be handed out to potential costumers
- Princess Molly will provide sales totals to the organization periodically so the fundraiser can track real time progress
-At the end of the fundraiser, Princess Molly will cut a check to the organization for the percentage of the total sales (excluding shipping and taxes)
- If you are local in the Atlanta Metro Area, we will come out and set up tables for in person sales for your organization
Why Choose Us:
- No upfront costs to you and no upfront buying of any inventory
- Ease of sales- our website handles all the details of the orders
-No tracking sales, no dealing with handing out products, and no collecting money
- The organization receives a check at the end of the fundraising time period
- Wide variety of price ranges to increase the total sales potential - Able to reach potential customers across the USA
- Easy for costumers to use and the products are shipped directly to the costumer as the orders are received
- Can customize a special gift set just for your organization that incorporates your logo or special request products
-Fundraiser will receive a generous percentage of the sales
If you are interested in using Princess Molly Bath & Beauty for your fundraiser, please contact us. We would love to discuss fundraising options with you.
Email- princessmollybath@gmail.com
---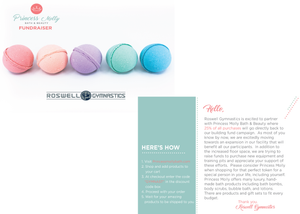 Example of Postcard
This is an example postcard that Princess Molly can create for your fundraiser. The artwork and written portion will be customized for your fundraiser. The postcards will come in a standard two sided 4x6.